Celery is one of the most seriously underrated vegetables. Some people think that since celery is made up of primarily water (95% water, to be exact), it doesn't have any real health benefits.
However, this is far from the truth! Eating celery can help lots of health issue, and the best part is that it's a very low-calorie veggie.
Firstly, celery contains a large quantity of fiber. Including fiber into your diet aids in digestion and helps you to feel fuller for longer. Eating enough fiber will stop constipation and keep everything progressing as it should be.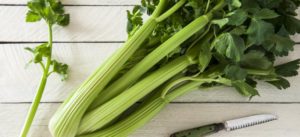 Secondly, celery is rich in phytonutrients. Phytonutrients give lots of health advantages — they have antioxidant and anti-inflammatory properties, and even aid in the health of your liver. Not so bad for a small, unassuming vegetable, right?!
Now, let's go back to talking about celery's water content. Snacking on this green is a great way to stay hydrated, because of its high water content.
While you shouldn't give up drinking water altogether, eating celery is a great way to supplement and stay hydrated, and it won't dehydrate you like chips, crackers, and other sodium-filled snacks would.
Also, celery doesn't have to be tasteless and boring! You could consume celery with hummus, peanut butter or guacamole. You can also cook celery and add it to your pasta or soup.
And it's effortless to toss some celery into a homemade juice or smoothie. Now that you are made aware of many benefits to eating celery, hopefully, you'll be able to incorporate more of it into your daily diet!