Christmas is probably one of the best periods of the year for almost every family on the planet.
During late November and beginning of December, families start putting up Christmas decorations and playing Christmas music.
Other Christmas traditions involve cutting down and decorating trees, hanging Christmas stockings, placing out cookies and milk for Santa Claus, setting up the Nativity scene figurines, and singing Christmas carols around Baby Jesus, St. Nicholas, Santa Clause, or Father Christmas.
But, there is a Methodist Children's Hospital in San Antonio, Texas, that has a decades-old Christmas tradition of its own.
Hospital wraps babies born on Christmas weekend in stockings https://t.co/8qeHvBrkub pic.twitter.com/xkMEmZU6r7

— WSB-TV (@wsbtv) December 26, 2017
Each and every year, for the last 50 years, the Methodist Children's Hospital has sent newborn babies home in a Christmas stocking (including a matching hat)!
The cute newborn Christmas stockings are handmade from the Bluebirds of Methodist Hospital, a volunteer group that does a lot of the incredible items for staff and patients during the year.
After an incredibly positive response, 0ther hospitals have started their own newborn Christmas stocking tradition.
See the video below:
What parents love most — in addition to watching the cutest thing in the world — is the stocking or matching hat eventually become keepsakes.
It is the type of thing that can become a tradition.
According to Bored Panda readers, they can still recall their newborn Christmas stocking experiences!
"When my youngest daughter was born New Year's day she was wrapped in a white stocking with a reddish band while the other vacation infants were in red ones," one reader recalled.
Another recalled that"when [her] son was born, he had been too big to fit in the stocking, so they put a Santa hat ."
One mother said, "This is how my son came to me in the hospital."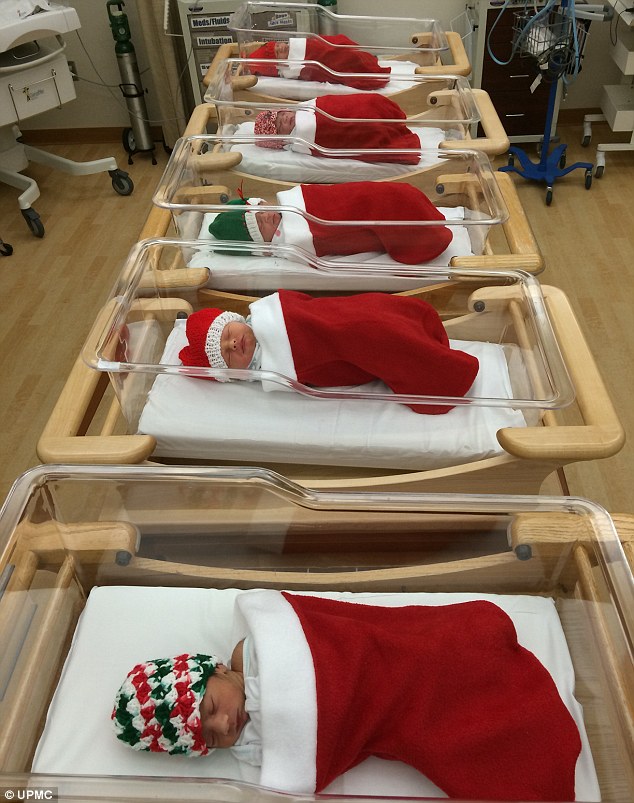 And lets be real,
What can be cutter than a newborn in Christmas stocking!?
SHARE THIS ARTICLE ON FACEBOOK